Features
Checkliso's Powerful Features
Businesses use Checkliso because its core features solve issues around productivity, communication, and health and safety. Is that what you'd like too?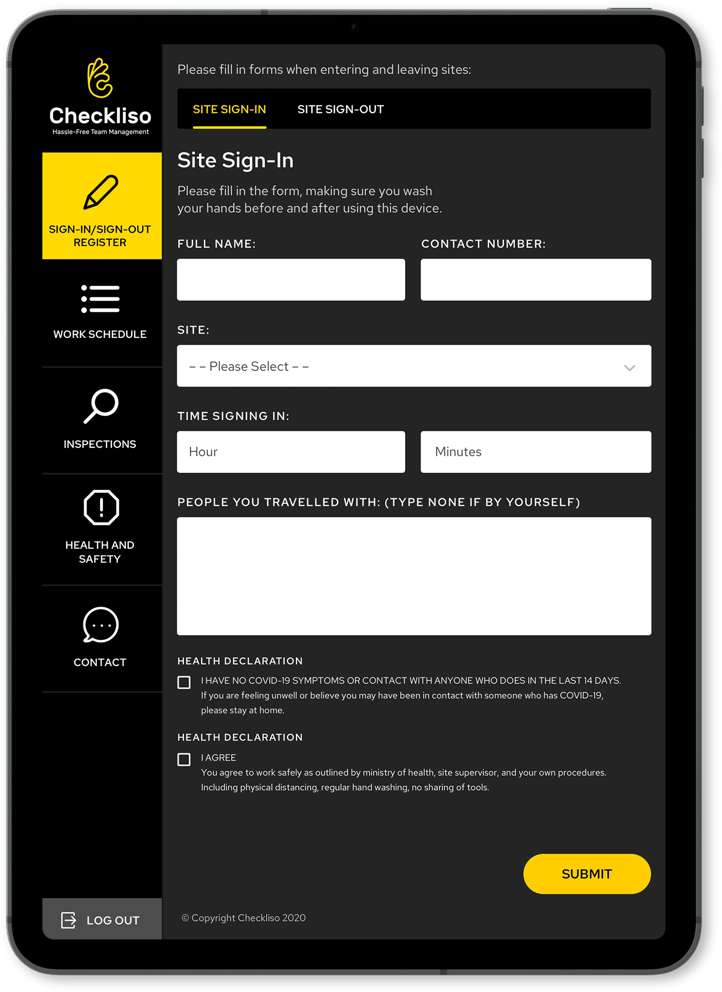 Sign-In/Sign-Out Register
The COVID-19 sign-in protocols are essential to keep people safe should contact tracing be needed. The sign-in/sign-out register on the Checkliso dashboard is easy to use and ensures you'll never have to worry about lost paperwork.
---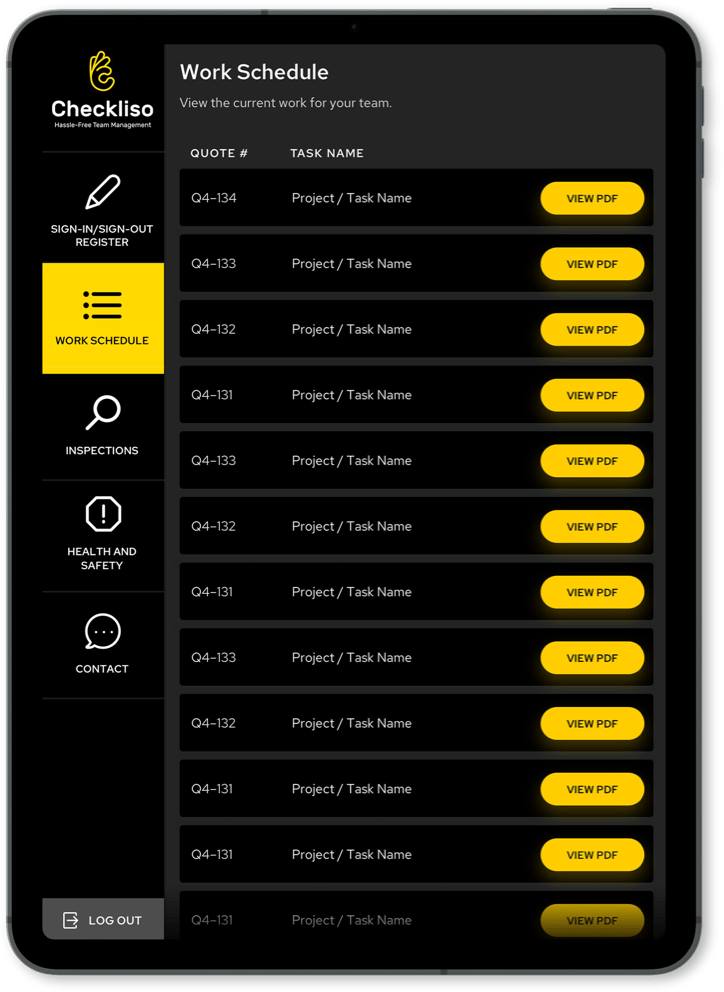 Job Sheet and Details
You can load your team's work details into Checkliso, ensuring everyone knows where they are meant to be and what they're meant to be doing.
It eliminates any confusion, makes your business run smoother, and is ideal if you need to move staff between jobs as all the information is there for your employees.
---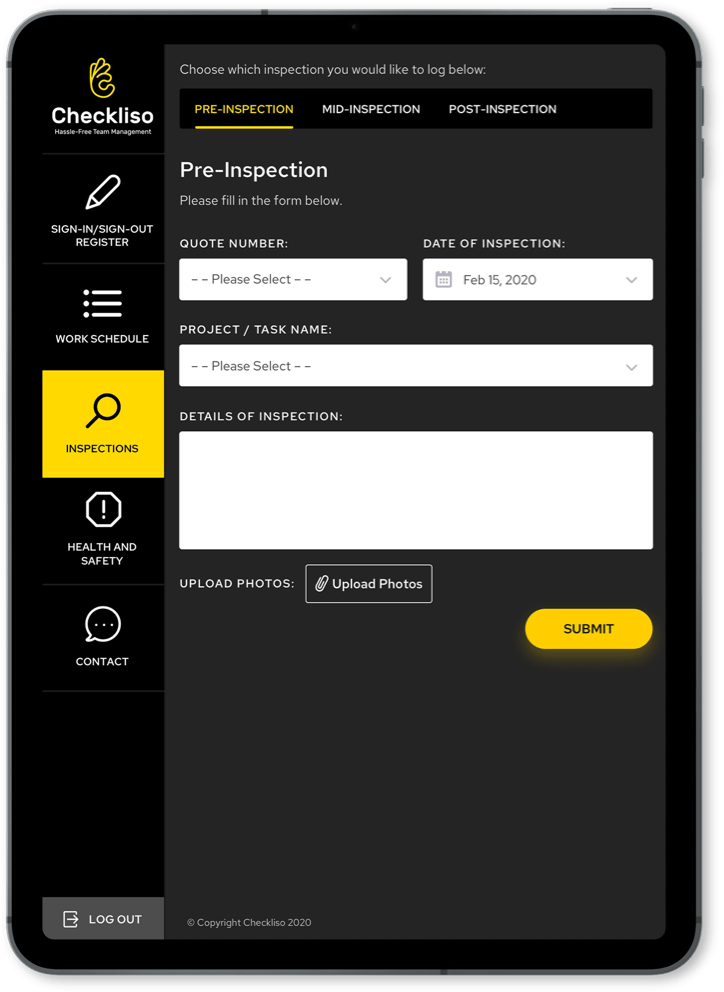 Record Keeping
Away from the office and want to access an important document? That's easy with Checkliso. You can upload documents via your dashboard, ensuring they're on your tablet wherever you are in case you need to read them or send them on to a colleague.
---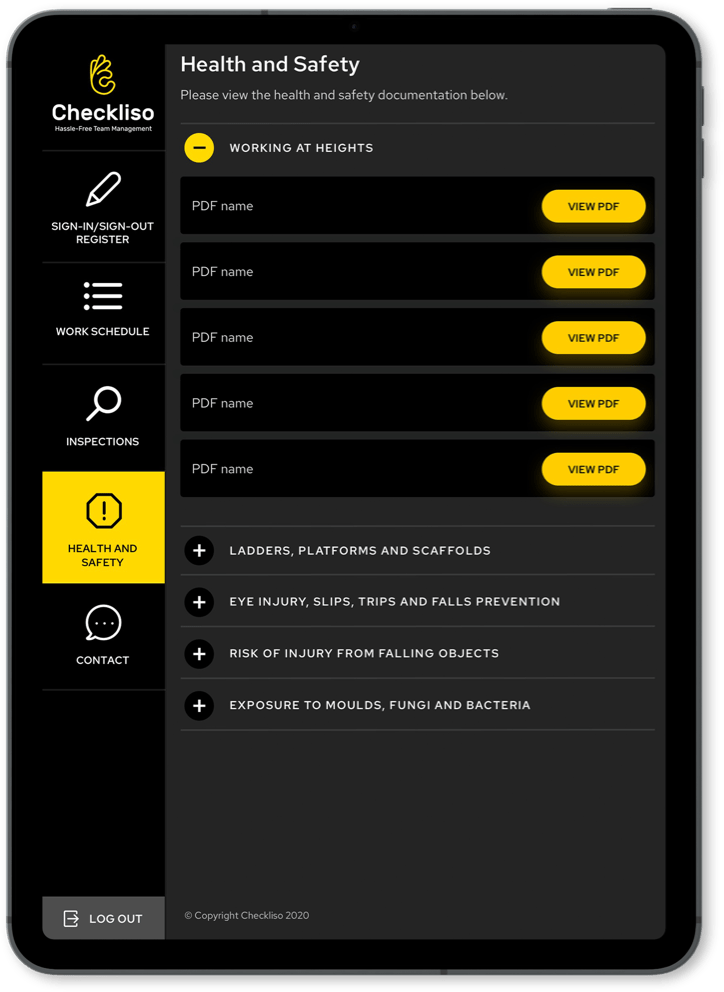 Health and Safety
You'll need to access health and safety documents from time to time. With Checkliso, you don't have to go searching through your systems looking for the right document. Everything will be on your Checkliso dashboard, just as you uploaded them.
---
Contact Your Office
You'll often need to keep your colleagues back at the office updated on what's going on with a project or site visit. We have a feature that makes this a whole lot easier for you when you're out on site, and keeps the team at the office in the loop.
---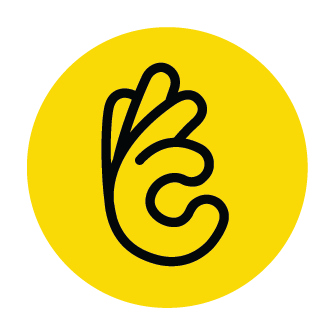 Need a tablet and or stand? - We can sort this for you ASAP.
Get in contact through our contact page.

Get Started
Our Pricing Structure Makes Sense
Other providers will charge you according to the number of people in your team or the number of sites you're at. This makes life really complicated.
We wanted to make life easier for you - so we've set a fixed price.
AND DURING THE COVID-19 RESTRICTIONS WE'VE CUT THE $399 SET UP FEE DOWN TO
$199
!
The sign-in/sign-out register and contact us feature is just $69 inc GST* while each additional feature is just $10 inc GST a month.
When you sign up to Checkliso, you get a cost-effective monthly fee. You also:
Get YOUR brand on your Checkliso dashboard, making it look unique. You provide the logo and you have your own brand for all to see.
You can ADD great features, such as: procurement process, the coffee run order, the sign-in/sign-out system AND anything else you can think of. We can make it happen for you (Ts and Cs apply) – just ask!
And, you get FANTASTIC support from the Checkliso team.
So, want Checkliso for your business? We're here to make it happen for you.
*The monthly fee above is for small businesses and organisations. 
If your business is a medium to large organisation then your monthly fee will be $119 inc GST due to more data needing to be stored, and, per additional feature will be $19 inc GST a month. T's and C's apply.